Why it could be necessary to have Cavity Wall Extraction
14 million homes in the UK have had Cavity Wall Insulation installed and this makes it very popular in terms of energy efficiency and cost savings to the homeowner, the purpose of having Cavity Wall Insulation is to insulate the property by keeping it warm and stopping heat loss through the walls and cavities. The problem is with living on an island that has a climate that consists of very wet weather, high winds and icy conditions, the weather will over time take its toll on the exterior of the property which can eventually lead to degraded brickwork and mortar which would potentially allow water to enter the cavity itself and allow the insulation to soak up moisture. Once the insulation gets wet it is next to impossible to dry out which over time will allow damp to transfer to the inner property and can affect woodwork and wall ties and cause far more serious issues in the property.
Some of the reasons why it would be necessary to have Cavity Wall Insulation extracted from your property would be:
The structure of your property was not suitable for Cavity Wall Insulation
The cavity was not clear of rubble prior to the insulation being installed
The Cavity Wall Insulation was installed incorrectly by the installer
The property has damaged walls such as cracks in the brickwork, render or pointing
Blockages have entered the cavity because of building works
Your property is in a high exposure area
Because:
Gaps in the insulation allow heat to escape and damp to form in cold spots
If the insulation gets wet it will act as a sponge, drawing water across and holding it against your inner walls
The insulation can prevent adequate ventilation and cause damage to, for example, a steel or timber frame, suspended wooden floors and can corrode wall ties.
It should be noted that it may take a few years before you notice problems with the Cavity Wall Insulation, but damp could still be damaging your walls before it becomes obvious. It's likely your energy costs will be rising too, as your heating will have to work harder to maintain a comfortable temperature.
Oscar Onsite believes that currently there are over 3 million homes which have had Cavity Wall Insulation that has failed. Many have been identified along the West coast of the UK that suffer from damp, mould and other related issues relating solely to blocked or impaired cavities which, are caused by existing debris from the existing build or remedial work afterwards or incorrectly placed insulation material either by incompetent, non-accredited installers or unscrupulous companies taking advantage of the previous lack of technical monitoring and assisted funded installations.
The Solution
Reinstate the cavities back to where they should have been before any insulation was introduced at the same time inspect wall ties and any other obstructions within the cavity wall void. This means also clearing the cavity of debris and other materials that should not be there that could contribute to the failure of a damp course and the insulation within the property.
Extraction Companies who wish to embark on the Oscar Onsite Cavity Clearance Scheme will need to be certified by Oscar Onsite and typically a leading UKAS Certification Body, who will ensure that the quality management system is robust enough.  Furthermore, all technicians will need to be Oscar Onsite accredited which means each person working on an extraction will have completed enough training to have sufficient knowledge about a property and its cavities and the methodology of extraction, and subsequently had an onsite assessment to determine the technician's competence to meet with the requirements of the Oscar Onsite Scheme.
Further, Oscar Onsite have written and launched the NVQ Level 2 in Cavity Wall Insulation Surveying and Extraction and this is available to all Oscar Onsite Members.
If you would like to locate an Oscar Onsite Approved Cavity Wall Extraction company, please click here.
Benefits of having Cavity Wall Insulation removed
When the Cavity Wall Insulation get wet, damaged or just ages over time it will reduce the effectiveness of the insulation which will increases energy consumption throughout the property making it a less warm and a colder house to live in. Having the Cavity Wall Insulation extracted will reduce the risk of this happening and any associated issues and health problems coming from the dampness and mould it can cause. Where failure has happened because of the condition of the property, any remedial works should be completed prior to any insulation being reinstalled.
It is recommended that extracting failed Cavity Wall Insulation and replacing with more modern materials such as beads, that is correctly installed can provide the following benefit such as:
Reduce energy consumption and save money
The property will be warmer especially during the winter season
There will be a reduced risk of any damp, mould or cold spots from appearing in the property
The property value may increase by installing energy saving measures
Any work undertaken done by an approved Oscar Onsite accredited member gives confidence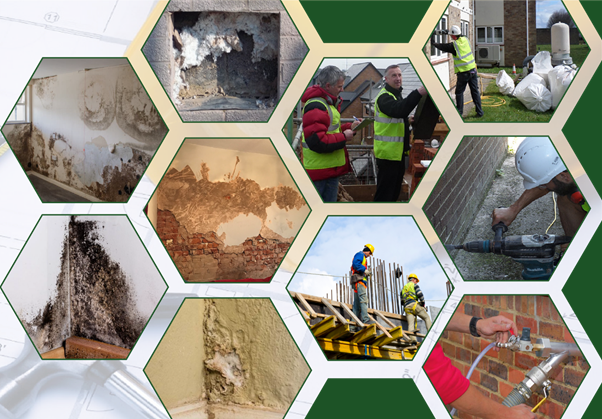 Cavity Wall Extraction work and Certification process
We have a combined vast number of years' experience in the construction industry and the management team at Oscar Onsite have dedicated themselves to making Oscar Onsite the go-to Company by those involved in the industry. During that time, Oscar Onsite have become the UK's Leading Authority in Cavity Wall Insulation Extraction.
Step 1 – Cavity Wall Insulation Survey

The process of removing Cavity Wall Insulation from the property is usually straightforward with the use of specialist machinery and a set methodology where bead and fibre insulation materials have been used. Prior to any work being undertaken a technical survey should be carried out by an accredited Oscar Onsite surveyor who will identify any issues with the Cavity Wall Insulation, forming the basis of any work that needs to be carried out.
Step 2 – Cavity Extraction
Once the pre-technical survey has been completed and indicates works are required and the insulation should be extracted, specific industrial machinery which is used by  accredited Oscar Onsite technicians will be used, which involves blowing compressed air into the cavity of the property whilst at the same time an industrial extraction machine collects the waste insulation from the bottom of the wall through strategically removed bricks and this is done by working up the drilling pattern checking that the cavity is free and clear from insulation material. The waste cavity insulation material is then bagged up during the extraction process and removed from site for safe disposal.
It can take on average 2 days to complete a Cavity Wall Insulation Extraction with two technicians and a separate labourer to ensure the work is completed safely. You do not need to be out of the house when the work takes place, however the machinery is loud and could cause some disruption, it also should be worth noting that you may want to inform your neighbours of the work being undertaken.
Step 3 – Technical Monitoring Survey & Clearance Certification
Once the works have been completed there should be a technical monitoring survey undertaken in accordance with a Clearance Certificate and signed off by Oscar Onsite to confirm that all the insulation has been removed and waste disposal has been adhered to according to industry rules and regulations, leaving your property neat and tidy to your satisfaction with confidence the extraction process has been completed and independently verified as insulation free.